The value of employee choice: the elusive 100%.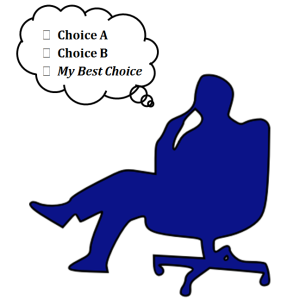 The polls are in – and employees are mostly happy with their provided health plans: mostly. 85% of employees polled claim that they're anywhere between somewhat and extremely satisfied with their employer provided benefits plan – and that means employers are doing a good job. This should mean back pats all around, right? Or should companies work to get that number to 100%?
To get that number in perspective, that still means that an average of about 15% of employees are dissatisfied with their benefits plans to a degree, and depending on your size, that can be anywhere from a couple to hundreds of dissatisfied employees and that can seriously hurt you.
But what are those 15% of employees unhappy about? Maybe it's time to consider that your one-size-fits-all plan might not actually fit all – and you're left figuring out who doesn't fit and how that hurts your company.
It's no secret that benefits are closely knit with what many employees consider "real wages" besides showing how much you value your employees. In an economy that's rapidly improving with recruiters fighting to grab your top producers, it might be time to consider what your employees value before it's too late.
Even though most employees were generally satisfied with the benefits plans provided to them, almost half said they would have liked more choices. That's a compelling case to consider additional options, especially with the rising costs of healthcare that have come with the ACA mandates. Choices also offer a sense of value to the employees. Their benefits are no longer handed to them with a "mother knows best" mindset that implies you understand all of their health needs. The idea of being given choices means you value their decision making enough to invest in them, and you understand that different employees might have different needs.
Besides the value you impart on your employees with choice, you can show that you value diversity. Sure, many industries are dominated by certain demographics, but I think you would be hard pressed to find any industries where individuals don't want choices (and to feel valued).
Besides, most carriers allow for multiple plan design offerings for medical, but did you know many offer choices for dental as well? Employees are used to limited choices on medical. What about adding voluntary plans at no cost to the employer? Disability Income plans as well as Critical Illness plans are growing in demand. Plan options give choice and satisfaction that it was their (the employee's) choice for what they needed or want, plus it works with totally voluntary  and defined benefit offerings.
The bottom line becomes that choice = value. When you give choice to your employees, you're giving value. And who knows, that 15% satisfaction increase could mean a 15% productivity increase – and that's something worth considering.